...
BWS team came to work by bike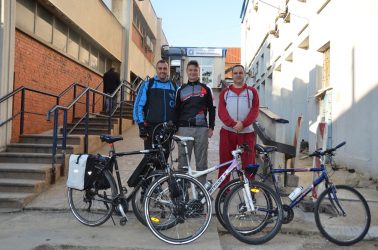 The team of Belgrade Waterworks and Sewerage joined many institutions, organizations and companies who participated Car-Free Day. This morning, the participating team from our company came to work by bike instead by car or public transportation thus supporting public awareness on environment friendly and healthier alternatives.
The initiator of BWS participation was Head of accounting department Slavica Ilić who today passed 11 km on her bike. She was joined by the engineers from Design bureau Marta Ilić (11 km) and Dušan Radanović (4,3 km), operator Radoje Mimović (7,2 km), sales officers Mirko Kilibarda (5,3 km), Radojlo Jovanović (13,7 km) and Dejan Jaćimović (5 km) with colleague from Public Health Institute Ivan Vujasinović. Participating team from BWS together passes 57,5 km on their way to work.
This year the City of Belgrade joined European capitals competing in passed kilometers by bike or on foot to the working places, and the Mayor Siniša Mali and Town Architect Milutin Folić, came to work by bike, too.
This challenge is a part of global initiative Car-Free Day celebrated for two decades on September 22nd within European mobility week promoting alternative means of transportation in everyday traffic communication.
One of the most important messages is promotion of healthy life style and decrease of pollution.