...
Construction of Belgrade sewerage commenced 111 years ago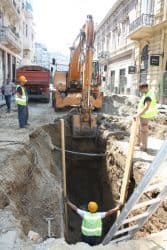 Construction of first Belgrade sewerage facilities started in 1905. Street gutters for sanitary and waste waters were constructed in today Marka Kraljevića Street, hercegovačka Street, a part of Venizelosova Street and Cara Dušana Street.
As a memory to the first design and very beginning of sewerage construction, as well as to generations of people who worked in the company, in this September was also celebrated St. Patron's day Saint Zachary and Saint Elizabeth.
In 1903 town Council with Kosta Glavinić as a mayor assigned preparation of General design for Belgrade Sewerage to the engineer Dušan Ninković, a head of sector for Belgrade sewerage, and he together with his five colleagues finished it on October 5th 1904. The design envisaged contemporary technical and technological methods of channeling and it contained 76 drawings, five notebooks with tables and two bills of quantities for the town on the right bank of rivers Sava and Danube. The design was approved and well prized by authorized institutions and foreign consultants but its finishing shared the fate of the town itself.
By 1910 more than 2000 m of collectors and more than 7000 m of pipe channels were constructed, and at the same time were constructed very complex engineer facilities. The principle established in 1910 by which the river Sava should be protected from discharging of waste waters and that waste waters should be re-directed to the more powerful Danube is still in force but it hasn't been fully achieved. In 1939 Belgrade already has the first two of present 47 sewerage pumping stations, and the network included 224 km of pipe canals and 42 km of collectors, which is only 16 percent of the present but the improvement for that period was very significant.