...
New fountain in front of cultural center Rakovica commissioned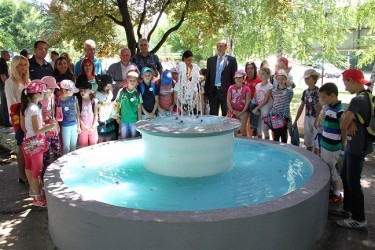 At the plateau in front of Cultural center of Rakovica Municipality in 7 Miška Kranjca Street, on Monday 18.05.2015 a new fountain was officially commissioned. Fountain commissioning was attended by Rakovica municipal president Vladan Kocić, municipality Rakovica council memebers, PUC BWS deputy director Vlado Sekulić, Belgrade youth office coordinator Bojan Bogdanović, and numerous citizens.
At the initiative of authorized representatives of Rakovica Municipality, workers of PUC Belgrade Waterworks and Sewerage erected a fountain mostly appreciated by the youngest visitors of the Cultural center Rakovica.