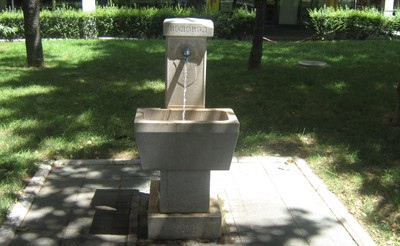 For Belgrade waterworks the first of April is officially the first working day for all public fountains. This year the start time of "city oasis" has been March 23rd so that all of them should be turned on by April 1st. The first fountains turned on have been fountains in the center of Belgrade: in front of Cultural Centre, between two palaces, Staklenac, Breza, Terazije fountain, Bezistan, Nikole Pasica Square and A girl with a jug. Maintenance of the fountains and preparation works have commenced in March, and prior to their turning on they were washed. Working season of "city oases" will last from spring till the end of autumn, i.e. from April 1st to November 1st each year.
PUC Belgrade Waterworks and Sewerage took over maintenance of public fountains from PUC Greenery Belgrade in 2006. Currently the company maintains 138 drinking water fountains and 38 fountains. Water from distribution system supplies 132 drinking water fountains, while 6 fountains are supplied from natural springs, and these are: Vracar left and right, fountain in Vojvode Putnika Boulevard, Milos and hajduk fountain in residential area Topcider, Miljakovac spring and Lovac Fountain in residential area Beli potok.
Besides works on water supplying facilities, Belgrade waterworks also installs and repairs complete lighting, performs painting, tiling and polishing but also maintains plateaus on which these fountains are placed.
Quality of fountain water supplied from distribution network is excellent, that is the same as on household taps. Water on the fountains is simultaneously controlled by Belgrade Waterworks and Institute for public health of Belgrade. Control of quality of water from natural sources in mainly in competence of City Institute.