...
Refurbished drinking water fountain in Cvijićeva Street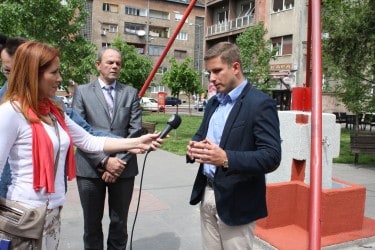 In the city park, in the corner of Zdravka Čelara and Cvijićeva Streets, on Monday 27.04.2015 after four years of malfunctioning has been refurbished drinking water fountain. The opening ceremony has been attended by the head of SNS parlamentary group Aleksandar Jovičić, depudy of the managing director of PUC Belgrade Waterworks and Sewerage Vlado Sekulić, and numerous citizens. Reopening of the fountain was welcomed by children who will enjoy in drinking of water, sprinkling and play. Complete works on fountaing refurbishment were performed by Belgrade waterworks on intiative of neighbouring residents.
On this occasion Aleksandar Jovičić appealed for preservation of public property and called citizens of Belgrade not to allow its demolishing, and added "This is a minor detail but such things are part of everyday life. Civil initiatives are very important to us since they give us necessary impulse to act in certain direction. This investments aren't big but they are meaningful to our fellow citizens."
Vlado Sekulić emphasized that old appearance of the fountain has been preserved with three fountains and that has been done everything that's necessary so that fountain is safe. "The most important thing to us was to secure the manhole that cracked and that was dangerous mostly for children. Invested finances aren't big and we perform similar works in other municipalities, as well. Similar reconstructions have been done in Voždovac, Rakvica and Novi Beograd. PUC Belgrade Waterworks and Sewerage is the service of all citizens of Belgrade, and since warm weather periods are approaching, our fellow citizens will most surely welcome such initiatives.