...
Voluntary blood donors have shown their humanity once more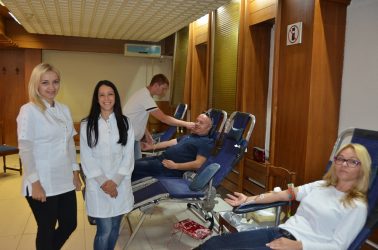 During event of voluntary blood donation organized by the Association of VBD PUC Belgrade Waterworks and Sewerage held on 28.09.2016 52 employees have donated blood and 42 units of blood were collected.
The third regular event of voluntary blood donation organized in cooperation with the Institute for blood transfusion of Serbia "Sveti Sava", the president of the association of VBD PUC BWS Siniša Đorđević characterizes as successful and he thanks to all colleagues who have responded to invitation and shown humanity and announced following event which will be organized on November 14th 2016 on the occasion of celebration of Saint Patron Day of the Association – Saint Kozma and Damjan – Vračevi.