...
Water from city waterworks for residents of one part of village Stepojevac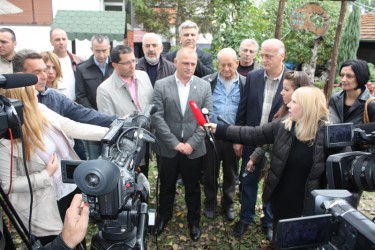 In village Stepojevac, on Wednesday 30.09.2015, has been put into operation newly built section of water supplying network in presence of city manager Goran Vesic, director of PUC Belgrade Waterworks and Sewerage Svetozar Veslinovic and deputy president of Lazarevac Municipality Bojan Stevic.
In the period from 01.07 to 28.09.2015 in Velimira Vece Lesendrica Street, in this residential area, PUC Belgrade Waterworks and Sewerage laid new water supplying network of total length of 1855m. On this newly built part of a network so far have connected 17 out of 42 households. By the end of the year is also envisaged construction of 3120 m of new network within the first construction phase in the residential area Stepojevac.
On this occasion city manager Goran Vesic, stated: "We expect that by the end of the first half of the next year 1000 households from Lazarevac residential areas Vrbovno and Stepojevac will connect to Belgrade water supplying network. For this project the City has dedicated more than one million euro and residents also pay their participation." Vesic also added that in this way the City of Belgrade has shown that all parts of the town are equally important.
The resident of Stepojevac Radisav Lesandric thanked to the City of Belgrade on behalf of residents of Stepojevac and emphasized that they have been waiting for this moment more than a three decades.