...
PUC Belgrade Waterworks and Sewerage on WTP Makiš organized professional meeting dedicated to presentation of work and experience of Budapest Waterworks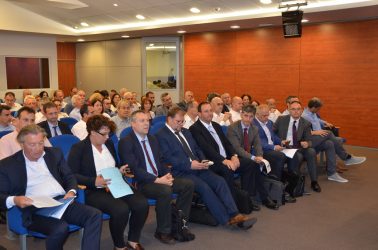 The meeting was attended by the City manager Goran Vesić, directors of Belgrade and Budapest Waterworks Dragan Đorđević and Csaba Haranghy, as well as engineers and other professionals.
City Manager welcomed guests from Budapest and reminded us that Budapest Waterworks was one of the first companies that helped Serbia during floods in Obrenovac in 2014. Our friends from Budapest sent us mobile treatment plant. In 2014 two waterworks signed Contract on cooperation.
Some ten years ago Budapest Waterworks underwent privatization of waterworks and in years that followed it was bought out again and returned into ownership of the city.
"We think that there are strategic companies that must remain ownership of the City of Belgrade and Budapest experience could very valuable one" Goran Vesić said.
City manager also underlined that in following ten years some biggest investment will be directed to Belgrade waterworks and sewerage.
"Five waste water treatment plants will be built, construction of interceptor will be finished and construction of missing sewerage in the city, reginal water supplying network Makiš Mladenovac will finalized, etc. This is also the reason why experience exchange with world cities is necessary since we learn from each other and are open to new experiences", Vesić said.
Managing Director of Budapest Waterworks Csaba Haranghy said that he was very pleased with invitation and that two cities are connected by the Danube and economic interest.
"To us it is very important to have live contact with people and cities since the flood can happen to anyone and we have to be ready to help each other. Economic problems of the companies are also similar since we are aware that we cannot raise water tariff so we have to be economical in our operations. We have used this opportunity to indicate to our colleagues from Belgrade waterworks our mistakes so that they wouldn't make them in the future. I also want to thank to the managers of the City of Belgrade since we all understand how vital water supplying and sewerage are for every town", said Haranghy.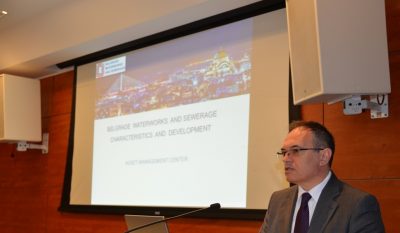 The director of PUC Belgrade Waterworks and Sewerage Dragan Đorđevic underlined importance of exchange of experience with colleagues from Budapest.
"The support of our colleagues and the City Manager is very important to us and I must emphasize that this meeting has a working character and we will try to gather as many valuable information as possible so our systems would be better and more efficient", said Đordević.
During the day the hosts and guests talked about their experiences with political cooperation with the authorities, local self-government and customers, about system refurbishment, ground water sources, network maintenance and other issues important for functioning of this complex system.